HAVING FUN WITH FOSSILS AND DINOSAURS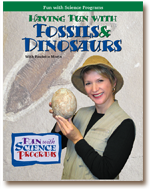 Event Type: Children's Program
Date: 8/19/2013
Start Time: 6:30 PM
End Time: 7:30 PM


Description:

Join us for our last DIG INTO READING program where we examine the wonderful world of fossils and dinosaurs with Paulette Morin.
Dressed for digging and protected by a pith helmet, intrepid fossil hunter Paulette Morin introduces students to the wonders
of our prehistoric past and dinosaurs. The presentation
touches on the who, what, where and when of dinosaurs and includes storytelling, information on how to find fossils, and more than 100 fossil specimens for children to examine. Don't miss this fun program!

Library: Cos Cob Library
Location: Community Room


Other Information:

Grand prizes will be awarded at our Annual Open House on September 21st! Save the date!!